Diminished Value is the difference in the value of your car directly before and directly after collision repairs have been completed. After being repaired, your car has a bad Carfax or other vehicle history report. Used-car buyers prefer to purchase cars that were never previously damaged so your car, by comparison, is less appealing; hence, it is worth less. If there was frame, unibody or air bag deployment it is worth a lot less. You can make a third-party diminished value claim against the insurance company of the driver who caused the accident. The first step is to obtain an automobile diminished value appraisal from a diminished value expert. The St. Lucie Appraisal Company services all 50 states by providing diminished value reports and expert witness testimony for owners of damaged vehicles. Call a diminished value expert at 772-359-4300 or email us at contact@autodiminishedvalue.com if you have questions or need more information.
WE DON'T USE FORMULAS, ALGORITHMS, AD COMPARISONS OR OTHER SHORT CUTS
SIX DEALER QUOTES IN EVERY APPRAISAL
TELEPHONE CONSULTATIONS ALWAYS FREE-OF-CHARGE
What makes a person or company an expert at something? We can answer that question in one word – results. A positive outcome for our clients is proof enough that our methodology for arriving at diminished value works better than those of our competitors. The St. Lucie Appraisal Company may be a small fish in the large pond of big-bucks-advertising diminished value appraisal companies but more insurance adjusters recommend us as a diminished value expert to their friends and families than anyone else. We consider it a compliment when former adversaries in diminished value matters, adjusters from State Farm, Allstate, GEICO and other insurers compliment our work.
DIMINISHED VALUE EXPERTS IN ALL 50 STATES
With regard to hiring an appraiser for a personal inspection your car, everyone should be aware that a physical inspection of the repaired car is completely unnecessary and only serves to line the appraiser's pocket as you will be charged more for their service. The car is fixed. There's nothing to see. In the case of REPAIR-RELATED diminished value, which is a loss of value because of shoddy repairs, a physical inspection is, indeed, necessary. Your claim, and 99% of all diminished value claims, is known as INHERENT DIMINISHED VALUE. It simply means that the car is worth less because it now has a repair history or bad Carfax. Our research is done based on a properly-repaired vehicle.
The Diminished Value experts at The St. Lucie Appraisal Company work hard for you by taking the time to obtain six verifiable diminished value opinions from new car dealers. No shortcuts like formulas, algorithms or online ad comparisons. These unbiased quotes have served as proof to magistrates and mediators alike. When insurance adjusters are presented with one of our appraisals, it is a signal that you are serious about collecting the full amount that your vehicle has lost due to the negligence of their policyholder. As your diminished value expert, we are prepared to represent your interests throughout the claims process. Virtually all of our competitors have had complaints lodged against them in sites like The Better Business Bureau, Yelp and Ripoff Report. You may feel free to search those sites as well as others like Angie's List and you'll never find a bad review of our company.
That makes The St. Lucie Appraisal Company more than a diminished value expert. It makes us the company you want to do business with.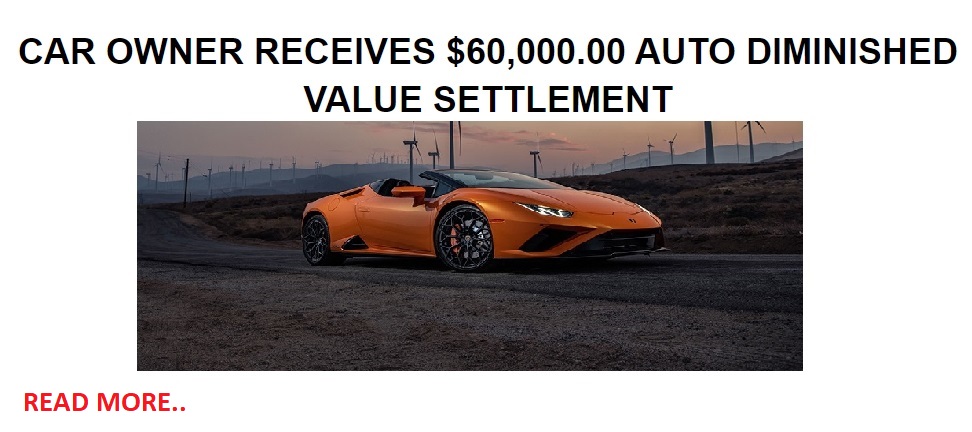 READ CUSTOMER REVIEWS OF THE ST. LUCIE APPRAISAL COMPANY

Click on the payment button above to pay by Credit Card or Paypal. The fee for an Automobile Diminished Value Report is
$275.00. You may also make your Credit Card Payment by telephone, call 772-359-4300.

After making your secure payment please email the body shop estimate or insurance company appraisal to contact@autodiminishedvalue.com
TESLA AND OTHER EXOTIC CAR OWNERS PLEASE CALL FOR RATES.
Service throughout Alabama, Alaska, Arizona, Arkansas, California, Colorado, Connecticut, Delaware, District of Columbia, Florida, Georgia, Hawaii, Idaho, Illinois, Indiana, Iowa, Kansas, Kentucky, Louisiana, Maine, Maryland, Massachusetts, Michigan, Minnesota, Mississippi, Missouri, Montana, Nebraska, Nevada, New Hampshire, New Jersey, New Mexico, New York, North Carolina, North Dakota, Ohio, Oklahoma, Oregon, Pennsylvania, Rhode Island, South Carolina, South Dakota, Tennessee, Texas, Utah, Vermont, Virginia, Washington, West Virginia, Wisconsin and Wyoming
This is an Open Education Resource focused on auto diminished value, collective knowledge and the sharing of scholarly content.
AUTODIMINISHEDVALUE.COM, AUTOLOSSOFUSE.COM and TOTALLOSSDISPUTE.COM are services of The St. Lucie Appraisal Company.