There are three types of diminished value claims: inherent, repair-related, and insurance-related. The general consensus among insurance companies, vehicle owners, car dealers and automobile appraisers considers inherent diminished value to be value lost due to stigma, repair-related diminished value to be value lost due to repairs not returning a vehicle to pre-accident condition, and insurance diminished value to be value lost due to the use of lesser parts. The most significant issues relate to the evidentiary standard required for proving a claim in inherent diminished value and to quantifying that loss in value. How does an appraiser go about determining the amount of auto diminished value?

WE DON'T USE FORMULAS, ALGORITHMS, AD COMPARISONS OR OTHER SHORT CUTS
SIX DEALER QUOTES IN EVERY APPRAISAL
TELEPHONE CONSULTATIONS ALWAYS FREE-OF-CHARGE
In order for you to prove inherent diminished value it would be insufficient to express an opinion that the vehicle is worth less by employing a formula, algorithm or simply the uncorroborated opinion of an appraiser who considers himself an expert. Without reliable evidence, an individual appraiser's experience is insufficient to prove inherent diminished value on a balance of probabilities. The burden remains with the car owner to quantify their claim of inherent diminished value with actual evidence.
DETERMINING THE AMOUNT OF DIMINISHED VALUE
The St. Lucie Appraisal Company generates diminished value appraisals crafted from the unbiased opinions of numerous authorities on the buying, selling and auctioning of cars – the sales managers at new car dealerships. In fact, we are the only independent appraisal company in the United States that can reference literally thousands of such opinions. Proving the existence and amount of automobile diminished value is critical both in claim negotiations and legal proceedings should matters escalate to that stage. Insurance adjusters and their supervisors are not impressed by formula-based appraisals and give them scant respect when negotiating settlements. If a car owner seeking compensation for diminished value doesn't submit an appraisal that convinces insurers that they would lose in court, you are likely to lose a great deal in terms of not only time and money but also emotional duress. Nobody likes being treated unfairly.
A pro-active approach works best. Obtain a credible automobile diminished value appraisal from an appraiser who holds a state-issued license. An automobile adjuster and appraiser license from any state is a nationally accepted credential. Make certain that the appraiser is agreeable to discussing his appraisal with insurance representatives. Document everything by insisting that all correspondences with the insurer be in writing. Escalate the claim up the chain of command. Supervisors have the authority to increase settlement offers and will likely consult with their legal team about the chances of a successful defense. If their lawyers tell them that the evidence is compelling, your chance of obtaining equitable treatment increases considerably. If you are still faced with arbitrary and capricious responses, make an unfair claim practices complaint to your state insurance department. Finally, should all else fail, you may have to sue them.
It is our goal to eliminate as much hassle as possible from your automobile diminished value claim experience by preparing appraisals that are fair and which accurately reflect the reality of the used car market. It is undeniable that your car has lost value after being wrecked and repaired. Determining just how much is our job and we do it better than anyone else.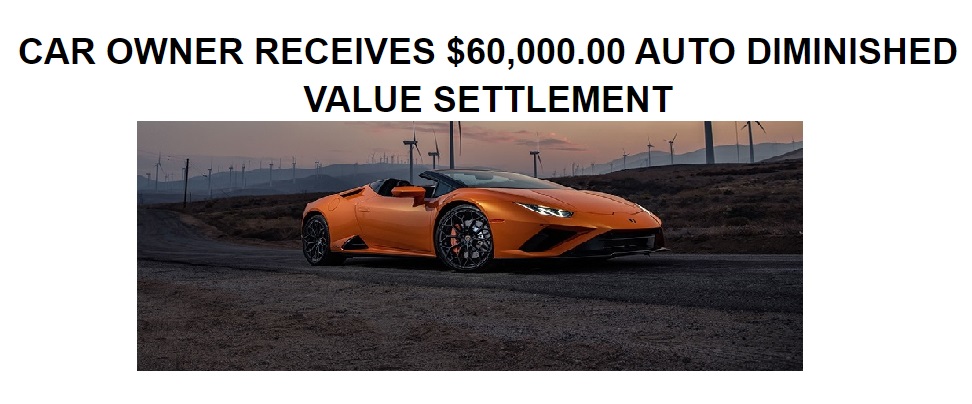 READ CUSTOMER REVIEWS OF THE ST. LUCIE APPRAISAL COMPANY


Click on the payment button above to pay by Credit Card or Paypal. The fee for an Automobile Diminished Value Report is
$275.00. You may also make your Credit Card Payment by telephone, call 772-359-4300.

After making your secure payment please email the body shop estimate or insurance company appraisal to contact@autodiminishedvalue.com
TESLA AND OTHER EXOTIC CAR OWNERS PLEASE CALL FOR RATES.
Service throughout Alabama, Alaska, Arizona, Arkansas, California, Colorado, Connecticut, Delaware, Florida, Georgia, Hawaii, Idaho, Illinois, Indiana, Iowa, Kansas, Kentucky, Louisiana, Maine, Maryland, Massachusetts, Michigan, Minnesota, Mississippi , Missouri, Montana, Nebraska, Nevada, New Hampshire, New Jersey, New Mexico, New York, North Carolina, North Dakota, Ohio, Oklahoma, Oregon, Pennsylvania, Rhode Island, South Carolina, South Dakota, Tennessee, Texas, Utah, Vermont, Virginia, Washington, West Virginia, Wisconsin and Wyoming
This is an Open Education Resource focused on auto diminished value, collective knowledge and the sharing of scholarly content.
AUTODIMINISHEDVALUE.COM, AUTOLOSSOFUSE.COM and TOTALLOSSDISPUTE.COM are services of The St. Lucie Appraisal Company.