By Franklin Colletta
A Google search for an Auto Diminished Value Appraiser will produce a massive number of results. A Bing search will yield similar finds. How is a consumer to determine which, in this sea of Independent Appraisers, will benefit them in pursuing and receiving fair compensation for their vehicle's loss in value after accident repairs? It is common knowledge that cars and trucks lose value once they have acquired a repair history, sometimes referred to as a bad Carfax. Determining the amount of value lost, however, is a subjective process. It is the car owners responsibility to prove that inherent diminished value occurred. The following are the questions that they can ask before hiring an appraiser.
THE APPRAISER'S METHODOLOGY – Methodologies used to determine a car's diminished value vary. From Formulas such as the widely-discredited Rule 17C to the numerous Algorithms that are derivatives of those formulas – to online ad or book value comparisons. All of these short-cut procedures lead to increased chances of outright claim denials. Ask a prospective independent appraisal candidate to explain how they arrive at their figures. At AUTODIMINISHEDVALUE.COM, our methodology is unique because we are the only Independent Appraisal firm carrying out actual research. This involves numerous conversations with the sales managers at recognized new car dealerships. It generates real-world evidence. The subject vehicle is described in detail. Its pre-accident condition and the damages that were repaired are discussed. The six sales managers will provide their unbiased professional opinions of how much less they would typically pay for a similar car. Obtaining six impartial estimations from experts in the field of buying and selling cars provides the probative evidence necessary to prevail in receiving fair compensation.
IS THE APPRAISER ALSO AN ADVOCATE? – Insurance companies will inevitably low-ball or even deny claims applying misdirection or false and unacceptable grounds. Skillful guidance should be offered whenever necessary. Simply providing an appraisal without support leaves the consumer to venture into unfamiliar territory alone. Is the appraiser willing to speak to an insurance adjuster on the client's behalf? Inquire as to how long the Independent Appraiser will assist with the claim.
DOES THE APPRAISER ALSO WORK FOR INSURANCE COMPANIES? – Loyalty to a consumer isn't implied. If an Independent Appraisal firm also courts insurance company work, competing interests often arise. An account with a large insurer would be more lucrative than with one car owner. An inherent conflict of interest as to their allegiance exists so it is important to ask who they do business with.
IS THE APPRAISER AN ACCREDITED EXPERT WITNESS? – Inquire whether the Independent Appraiser has provided sworn testimony in a court of law. Experience testifying in Small Claims Court, Circuit Civil Court and Federal Court is preferred. A rule of thumb: More experience in the legal arena = greatly reduced chances of being tripped up by insurance company defense attorneys.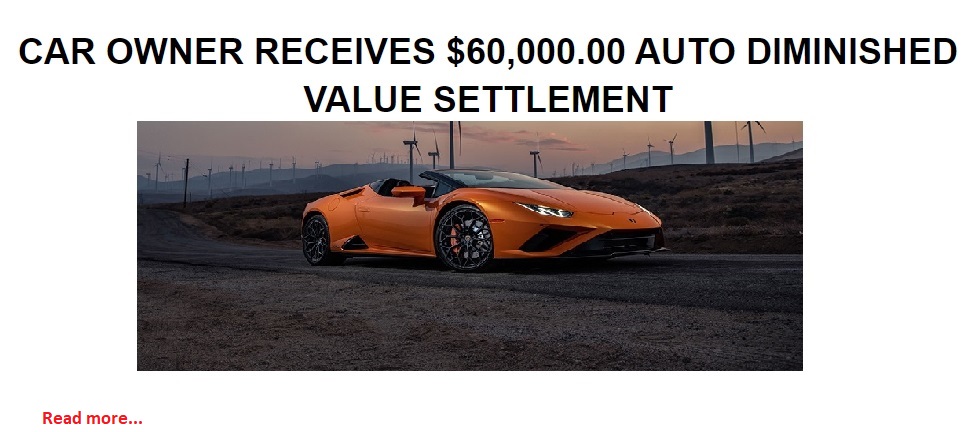 REVIEWS ARE IMPORTANT – Not only do online reviews validate an Independent Appraiser's integrity, they also shed light on the level of service they provide. It is wise for consumers to practice due diligence before blindly selecting one of the heavily advertised companies found in Google searches. While many company web sites include customer reviews, numerous review sites such as Google Maps, BBB and Yelp usually yield relevant reporting. The more one-star reviews found, the less-trustworthy the company.
ARE THEY AVAILABILE? – Does the Independent Appraisal firm answer their phone or do customers have to wait a week for a reply to their voice mails? It is not only frustrating and a waste of time, lack of a timely response can lead to resultant delays in the claim being settled quickly. While Independent Appraisers may seem accessible before being hired, will they continue to be so after they have been paid?
THE APPRAISER'S CREDENTIALS – Although no licensure is necessary to prepare Auto Diminished Value Appraisals, except in North Carolina, a government-issued automobile appraiser's license from any state is the strongest credential for an expert in the field. This is especially true when litigation is involved. While there are numerous privately-run organizations that charge a yearly fee to "certify" auto appraisers, this certification typically isn't recognized as a valid standard for proficiency and reliability. Are they licensed or merely certified or neither?
Frequently, Auto Diminished Value Appraisers are recommended by auto collision shops, attorneys or word of mouth. "Let the buyer beware" is a common principle. Inherent Auto Diminished Value claims are most often in the thousands of dollars so choosing wisely is of paramount importance. Ask pointed questions of the appraiser and hire the firm that you are comfortable with. Simply stated, obtaining fair compensation from an insurance company is the only objective.