When buyers of new but previously repaired Mercedes-Benzes become aware of a repair history showing that the car underwent prior repairs, most of them simply walk away. How is a buyer to know whether the car was repaired properly? The buying public could depend on a new dealer's word on everything but, in reality, they don't. They will seek a lower purchase price for the car. As a Mercedes-Benz dealer, are you entitled to recover this lost value? The answer is yes as long as the damages were as a result of someone else's negligence. Parking lot mishaps, careless car transporters and loaner accidents all can result in repairs to your new car inventory. The St. Lucie Appraisal Company prepares expert new car diminished value appraisals every day and invite you to become our next satisfied client.
WE DON'T USE FORMULAS, ALGORITHMS, AD COMPARISONS OR OTHER SHORT CUTS
SIX DEALER QUOTES IN EVERY APPRAISAL
TELEPHONE CONSULTATIONS ALWAYS FREE-OF-CHARGE
Insurance company claim adjusters can instantly recognize which independent appraisals will stand up in court and treat claimants accordingly when it comes to offering fair settlements. We are rarely called upon to appear as expert witnesses in legal proceedings because our clients generally receive fair settlements which means fewer civil actions. Mercedes-Benz diminished value and loss of use claims should be easily settled if appraisals are prepared correctly.
Auto Diminished Value in new cars is a fairly new concept that most dealers don't know about so feel free to call or email us with questions.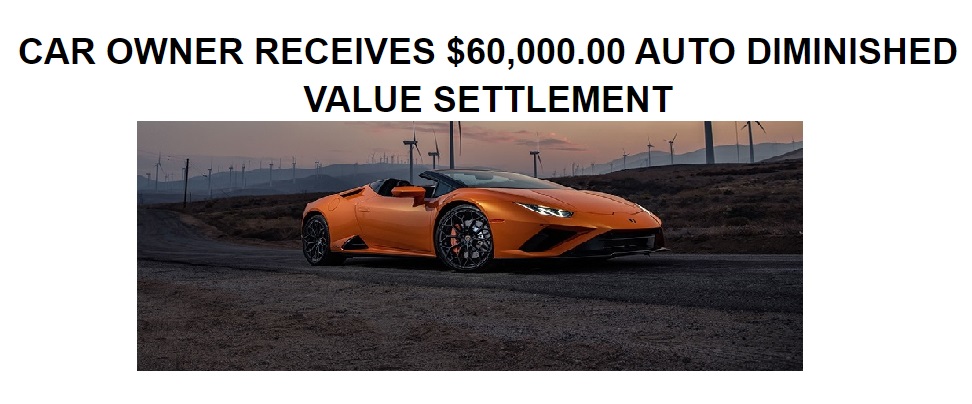 READ CUSTOMER REVIEWS OF THE ST. LUCIE APPRAISAL COMPANY


Click on the payment button above to pay by Credit Card or Paypal. The fee for an Automobile Diminished Value Report is
$275.00. You may also make your Credit Card Payment by telephone, call 772-359-4300.

After making your secure payment please email the body shop estimate or insurance company appraisal to contact@autodiminishedvalue.com
TESLA AND OTHER EXOTIC CAR OWNERS PLEASE CALL FOR RATES.
Service throughout Alabama, Alaska, Arizona, Arkansas, California, Colorado, Connecticut, Delaware, Florida, Georgia, Hawaii, Idaho, Illinois, Indiana, Iowa, Kansas, Kentucky, Louisiana, Maine, Maryland, Massachusetts, Michigan, Minnesota, Mississippi , Missouri, Montana, Nebraska, Nevada, New Hampshire, New Jersey, New Mexico, New York, North Carolina, North Dakota, Ohio, Oklahoma, Oregon, Pennsylvania, Rhode Island, South Carolina, South Dakota, Tennessee, Texas, Utah, Vermont, Virginia, Washington, West Virginia, Wisconsin and Wyoming
This is an Open Education Resource focused on auto diminished value, collective knowledge and the sharing of scholarly content.
AUTODIMINISHEDVALUE.COM, AUTOLOSSOFUSE.COM and TOTALLOSSDISPUTE.COM are services of The St. Lucie Appraisal Company.