Precedents established in the State of New York regarding automobile diminished value cases are relied upon by magistrates to render their decisions. Cases such as Johnson v. Scholz  affirm that case law has consistently held that "the measure of damages for injury to property resulting from negligence is the difference in the market value immediately before and immediately after the accident, or the reasonable cost of repairs necessary to restore it to its former condition, whichever is less." This means a plaintiff can be made whole under one standard or the other and not both as sought by a claimant. Yet, even though it would seem that defendants had no obligation to compensate claimants for third-party inherent diminished value claims, insurance companies throughout The State of New York make settlements for these claims every day. This tenet was also cited in Villafranca v Akhtar 2016 NY Slip Op 26191 Decided on June 6, 2016 Civil Court Of The City Of New York, Richmond County by The Honorable Philip S. Straniere. That case is discussed in this article.
Alfe Villafranca was self-represented when she appeared as the plaintiff at the above captioned civil trial. Representing the defendant, Nasim Akthar was Printz & Goldstein, a law firm hired by GEICO. The plaintiff's supporting evidence was provided by The St. Lucie Appraisal Company which showed that, as a result of its now having a repair history, her car, a 2014 Honda Accord EXL with 1,957 miles with a pre-accident fair market value of $22,000.00 and which suffered $3,207.17 in damages, lost 14.02% of its pre-accident fair market value or $3,084.40.
The methodology used by The St. Lucie Appraisal Company involved independent research, specifically, conferring with the sales managers at multiple Honda dealerships in the New York Metropolitan area. The Diminished Value figure represented the opinions of six (6) sales managers at area Honda dealerships which were chosen at random.  No opinions were discarded or not utilized. Dealers providing opinions regarding diminished value were given information specific to this vehicle including year, make, model, mileage, color, options, any other pertinent equipment, pre-accident condition, date of loss as well as the nature of the repaired damages and the manner in which the vehicle was repaired. The 14.02% diminished value figure was the median amount of the six opinions given which ranged from 7.50% to 20.00%. It should be noted that, although the case was postponed in order to allow the parties to produce their expert witnesses, the appraiser from The St. Lucie Appraisal Company was never asked to appear by the plaintiff.
AN AUTO DIMINISHED VALUE CASE IN NEW YORK
Judge Straniere's decision to deny the plaintiff's lawsuit appears to be at odds with the very reason for tort damages. Tort damages are awarded "to restore the injured party to the position that would have been occupied had the wrong not occurred" but this did not happen. That the resale value of plaintiff's car had diminished was not conjecture, the loss was actual and measurable. Why did the appraiser query six dealers? As was noted in the decision, the reductions in value expressed by the six dealers surveyed ranged from 7.50% to 20.00% of the trade-in value. It would be most expeditious to prepare a Diminished Value Report based on just one or two dealer quotes but, as The St. Lucie Appraisal report clearly showed, there are often differences in opinions that can be based on many factors. Hence, obtaining multiple dealer opinions produces a much fairer result than would be obtained by considering just a few.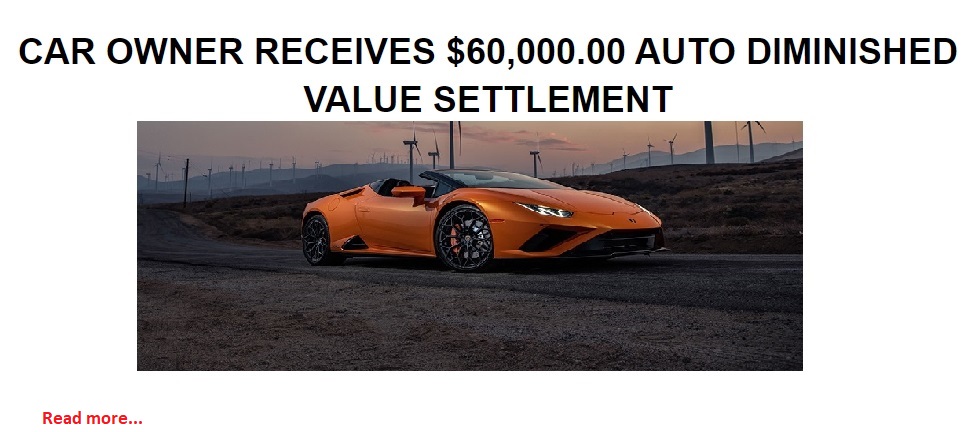 In Judge Straniere's ruling, he noted that Honda of Staten Island was not surveyed. It is true that the claimant lives in the Borough of Staten Island. When St. Lucie Appraisal sets out to obtain the six dealer opinions, they prepare a list of dealers that sell the same make of vehicle, in this case Hondas, and which are located in the same market area. The St. Lucie Appraisal Company called upon Honda dealers in the Five Boroughs of New York City and on Long Island. The appraiser did call Honda of Staten Island hoping to speak with Sales Manager James Terzouli but he wasn't available at that time. The six opinions obtained were from Honda dealers in Brooklyn, Woodside, Manhasset, Smithtown, Bay Shore and Patchogue. Hopefully, this was not a factor in the judge's decision because there is no difference in the value of a Honda in Staten Island than in any of those locations.
While it is often true that damaged cars, even those with frame or structural damage, can be repaired to nearly pre-accident condition, the fact is that there are now means by which used car buyers and dealers can determine that these cars were in wrecks. Once this information is disclosed to buyers, many simply walk away. At the least, they will expect to pay less for the previously damaged car than for a similar, previously unmolested one. Although Johnson v. Scholz determined that a claimant can only seek either repairs or the amount of diminished value – whichever is less, these rulings might be better applied to a structure, for instance, than a car. After repairs are made to a damaged building, there is no diminution of value. In theory, it can be said that the building was made even better by the repairs. With cars and trucks, however, we must consider that these are machines with many moving parts. The structure of cars, known as unibodies, depends on the integrity of each of its components. Once compromised by a collision, virtually every buyer's perception is that it will never be as good as before and possibly even likely to fail. This failure could be catastrophic or as minor as leading to excessive tire wear. We do not believe that existing case law in The State of New York is sensible when relating to diminished value in motor vehicles.
Judge Straniere also wrote "Whether it is true or not, it is generally accepted that once you buy a car and drive it off the lot, the market value is immediately depreciated. Claimant here has taken this belief to a new level. Claimant has documented through an appraisal report that the practice in the car sale industry is to offer less money for a vehicle involved in an accident even if physically repaired thereby entitling claimant to assert a loss of value claim. Based on what has been produced by the claimant, the court cannot dismiss the allegation out-of-hand. It deserves further analysis."
It is our opinion that the claimant has not "taken this belief to a new level" because depreciation and diminished value are altogether different. While depreciation has to do with the effects of time and usage on a car, diminished value relates to the stigma attached to a previously repaired car.
Judge Straniere also wrote "On the other hand, it may be argued that such a claim is premature because claimant has use of the vehicle and is not selling it at this time. Any loss would only be realized at that time and therefore is speculative."
In our opinion, and as we have learned from magistrates in other court cases, a claimant is entitled to the loss of value that occurs at the time of the accident and not at some unknown future date. Diminished value compensation should also not depend on whether the claimant sells the car or, indeed, even whether he elects to have it repaired or not.
Previous court rulings have stated that if a plaintiff has not yet sold the car, they have not yet realized any damages from a nonexistent sale. It may be true that at trial a plaintiff established that a vehicle's resale value will be reduced  because it was in an accident, the exact dollars and cents loss in resale value can only be determined based upon the price for which the car is sold. This places an undue burden on the vehicle-owner because there are no guarantees that compensation for the value lost in the sale will be forthcoming.
Judge Straniere also made the observation that there was no independent verification of the pre-accident condition of the vehicle. In this case, involving a car that had only been driven 1,987 miles, most people would agree that the car was in like-new condition. It was presented as such to the sales managers queried.
It is our opinion, after preparing thousands of Automobile Diminished Value Reports in all 50 states, that New York case law falls short of offering adequate compensation for car owners whose vehicles were wrecked and repaired. Less than one percent of the thousands of dealers queried have opined that a subject vehicle suffers no loss in value after having undergone collision repairs. Late model cars that had structural repairs or air bag deployment can't be certified, can't be financed and will be sent straight to auction typically losing 30% – 40% of their Fair Market Value. To further compound the problem, a car that underwent structural repairs, if struck in the same location in a subsequent collision, could prove fatal to the occupant(s) of said vehicle due to structural integrity failure.
There is little common sense in forcing a car owner to choose between repairing a car or being compensated for its diminished value. Should he or she choose to repair the car, they now have a vehicle that is worth less by virtue of it now having a repair history. That isn't being made whole. Neither is choosing compensation for diminished value as they now have a wrecked car sitting in the driveway. There are two standards of relief to be considered, not just one or the other. The purpose of awarding damages in a tort action is to make the plaintiff whole. Previous court decisions asserting that diminution of value should not be taken into account if the repairs would place the car in the same condition it was before the accident are, in our opinion, inequitable and out of touch with the harsh realities experienced by consumers who wish to sell or trade their previously wrecked cars – regardless of how well they were repaired.
The State of New York needs to explore alternatives. For example, newly enacted Jury Instructions in The State of California read as follows:
CACI 3903J
The harm to [name of plaintiff]'s [item of personal property, e.g., automobile]. To recover damages for harm to personal property, [name of plaintiff] must prove the reduction in the [e.g., automobile]'s value or the reasonable cost of repairing it, whichever is less. [If there is evidence of both, [name of plaintiff] is entitled to the lesser of the two amounts.]
[However, if you find that the [e.g., automobile] can be repaired, but after repairs it will be worth less than it was before the harm, the damages are (1) the difference between its value before the harm and its lesser value after the repairs have been made; plus (2) the reasonable cost of making the repairs. The total amount awarded may not exceed the [e.g., automobile]'s value before the harm occurred.]
So, why do insurance companies, in light of case law such as Johnson v. Sholz, still agree to settle third-party auto diminished value cases in The State of New York? Other than avoiding defense costs when challenged, there would seemingly be no reason for insurers to do so with one notable exception. It is the recognition that a plaintiff's victory could result in new case law setting a precedent similar to the one enacted in California. The consequence would deal a financial blow to insurers. A judgement for a plaintiff, especially at the Appellate level, could lead to a torrent of third-party inherent auto diminished value claims. The statute of limitations for filing a claim in The State of New York is three years.
ADDENDUM: In 2023, a $60,000.00 third-party inherent diminished value claim was paid by an insurance company in New York. Many other diminished value claims have been paid by insurers in New York but this is, by far, the largest settlement amount to date.
This is an Open Education resource focused on auto diminished value, collective knowledge and the sharing of scholarly content.
READ MORE ARTICLES…